How To Build A Facebook Custom Audience With Contacts From Your CRM
Have you noticed your email funnel for your CRM becoming stale and unresponsive? After enough emails from the same company, your customers will begin to develop "ad blindness". We all develop a filter with our inbox, and it can easily become a habit to skip over the emails we get every day.
"You've got mail!" …. Remember the old internet days? You get home, log into your internet provider (which can take a while) and you hear that magical phrase, "You've got mail!" That was about the extent of "social networking" online.
Obviously things are different now. People just don't care about email in the same way they used to. The best place to position your brand is where people choose to pay attention already.
Now, with facebook custom audiences, you can dust off those old email lists and increase your ROI.
"Facebook ads extend email campaign reach by 77%" – Kim Snider (author of "How to Be The Family CFO")
Check out this step by step guide where I'll show you exactly how to set this up in your Facebook ad campaign.
Navigate to your Facebook Ads Manager
Under the "Campaigns" tab click on "+Create Campaign"

Choose your marketing objective.
In this example we will choose "Conversions". Your CRM most likely only contains people who've already seen your brand. We want these people to take the next step and convert to customers.

Click on "Create New"
From the dropdown menu click on "Custom Audience"

Select "Customer File" (this will be your CRM)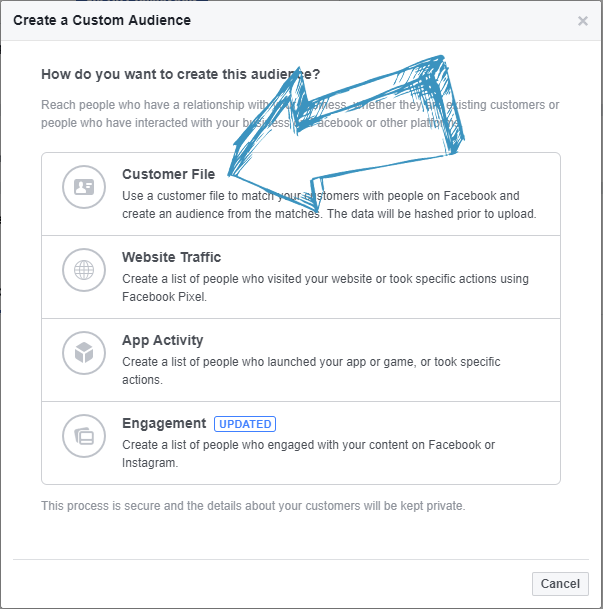 IS YOUR CRM SEGMENTED?
If you can create a list of your most valuable customers (those who maintain long-term subscriptions/return to buy again and again) then THIS is where you can take advantage of that by selecting Facebook's "LTV" (Lifetime Value) option. In this example, however, we'll choose to add our customers from a pre-existing file
Click on "Add customers from your own file or copy and paste data"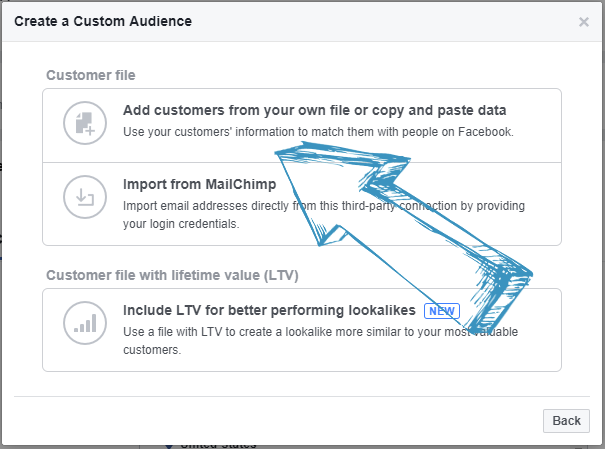 NOTE: Before uploading your customer list ensure that your customer data is prepared correctly. (Click here for reference)
Once your list is formatted for upload, click "Upload File"
Select your list or drag and drop the file into the white box
Click "Next"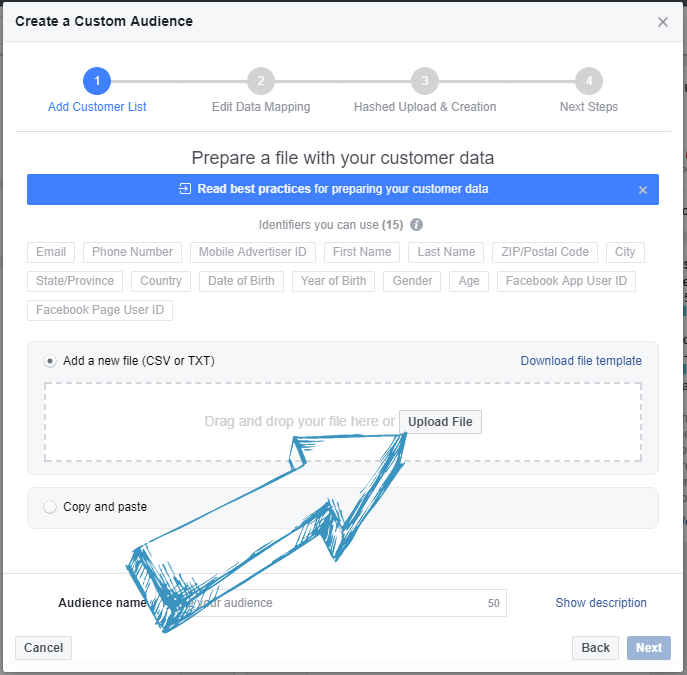 Once Facebook finishes matching your audience to facebook members, you'll now be able to create ads targeted to EXACTLY who you want and even create a lookalike audience from that CRM!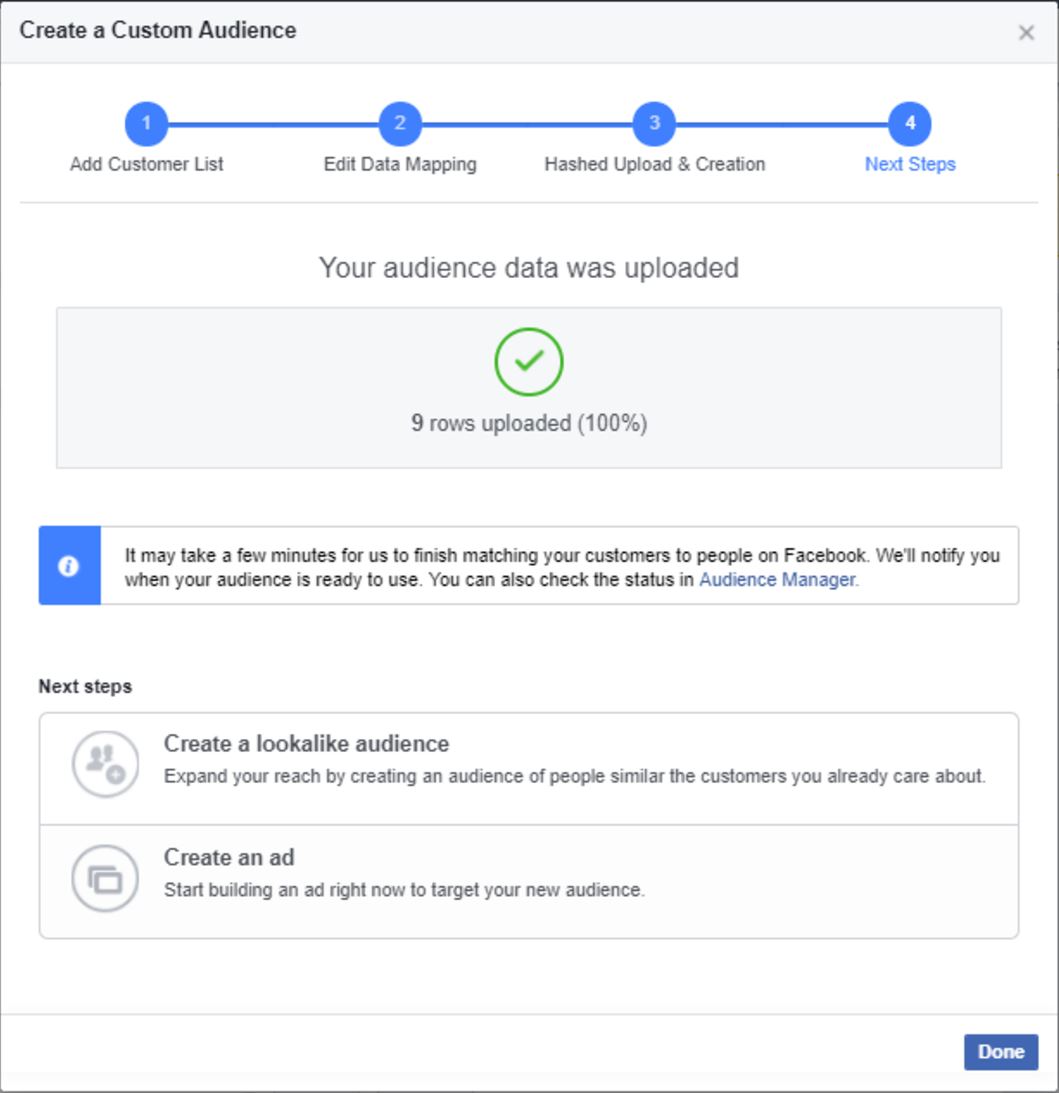 Use the dropdown menus to select the corresponding option for the displayed data on the left.
Example: If you see emails in a group on the left, select "Email" for the option on the right.
NOTE: IF YOUR DATA IS NOT FORMATTED CORRECTLY PRIOR TO UPLOADING, IT WILL NOT ORGANIZE PROPERLY. ( Click here for reference)
After all identifiers are mapped via drop down menus click on "Upload & Create"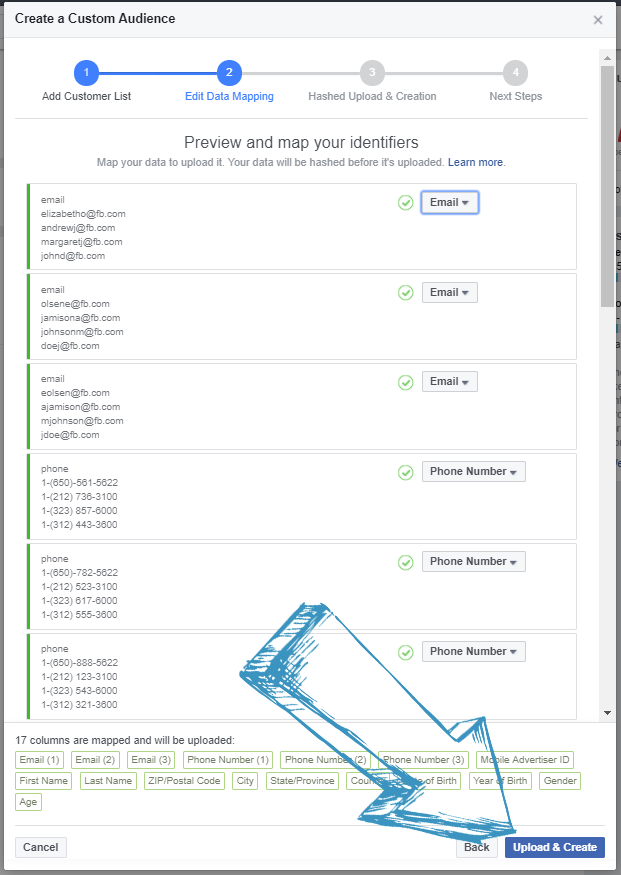 That's all there is to it. Now you can reach your CRM through the Facebook ad platform!